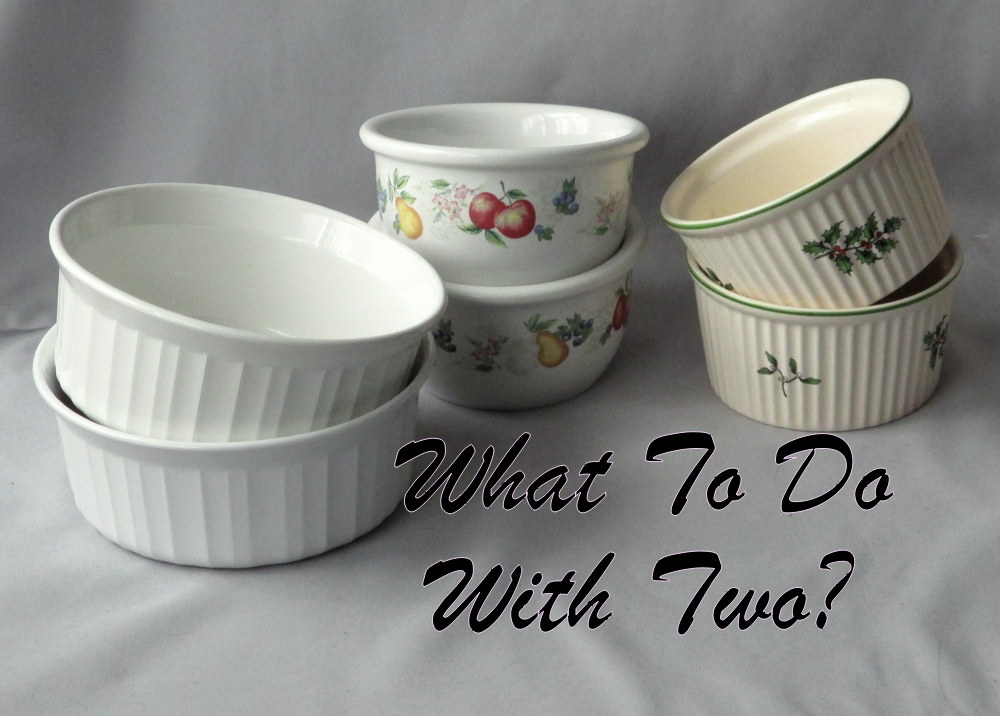 I like to use my vintage china. One challenge: setting a table for a group, when I only have a few of the piece types I want to use to serve the foods I've cooked.
What can you do, when you have only two?
Secondary marketplaces are spotty in their detailed offerings. Yes, there's lots of vintage dinnerware and glassware out there. No, the pattern you're looking for can be tough to find.
If you have (or want) only two of a kind, there are ways you can use them:
Dinner for two. Set a romantic, charming table when you and a guest are having an intimate meal, tea party, or other special celebration.
Custom snack set. Mix the one or two pieces into a special set that you use to serve a special snack, just as you might have a particular mug to use for hot chocolate, or a particular glass for a special drink.
Dip server. Use the ramekins (as in the phot) as an example. Fill the dish with your dip, set it on a coordinating platter, add chips, vegetables or crackers to complete the dip set for a party. Works for hot or cold dips, if you need to warm them, choose a piece that is oven or microwave safe.
Portion control dish. Create a set of dinnerware that helps you monitor serving size, as you might want to control for a diet. We use mostly salad plates and fruit bowls, instead of the larger pieces from our dinnerware. A full plate or bowl is automatically less food, and you adjust to it over time.
And beyond any of these...
Continue shopping! Keep looking for more pieces of the pattern and type you want.
I have a permanent shopping list, where I record the dinnerware and glassware I'm looking to find for my own collections and those I want for gifts, too. It's still a notebook, though eventually some of the items may become fixtures in the photo gallery on my phone.
Building a vintage dinnerware set (or two, or more) is fun. What a story they have to tell, as you collect your special china and glassware, and use those special dishes to serve wonderful meals to family and friends.
In the photo: From left, French White small casserole by Corning Ware, Abundance ramekin by Corelle Coordinates, and Christmas Tree ramekin by Spode. All these particular pieces are microwave and oven safe.




by