Look through any decorating magazine these days and you'll probably see what I've seen: articles and product showcases to help you create farmhouse style in your home.
Many of these spreads feature a lot of white, cream and wood tones. The cabinets and table clothes are white, sometimes the painted chairs and upholstered furniture, too. It's a minimalistic and sleek look that often includes some rustic elements.
And any pop of color really stands out on this canvas of calming monochrome.
White Milk Glass
When I first thought about what kind of vintage dishes would work well in this farmhouse color palette, white milk glass was the first thing that came to mind.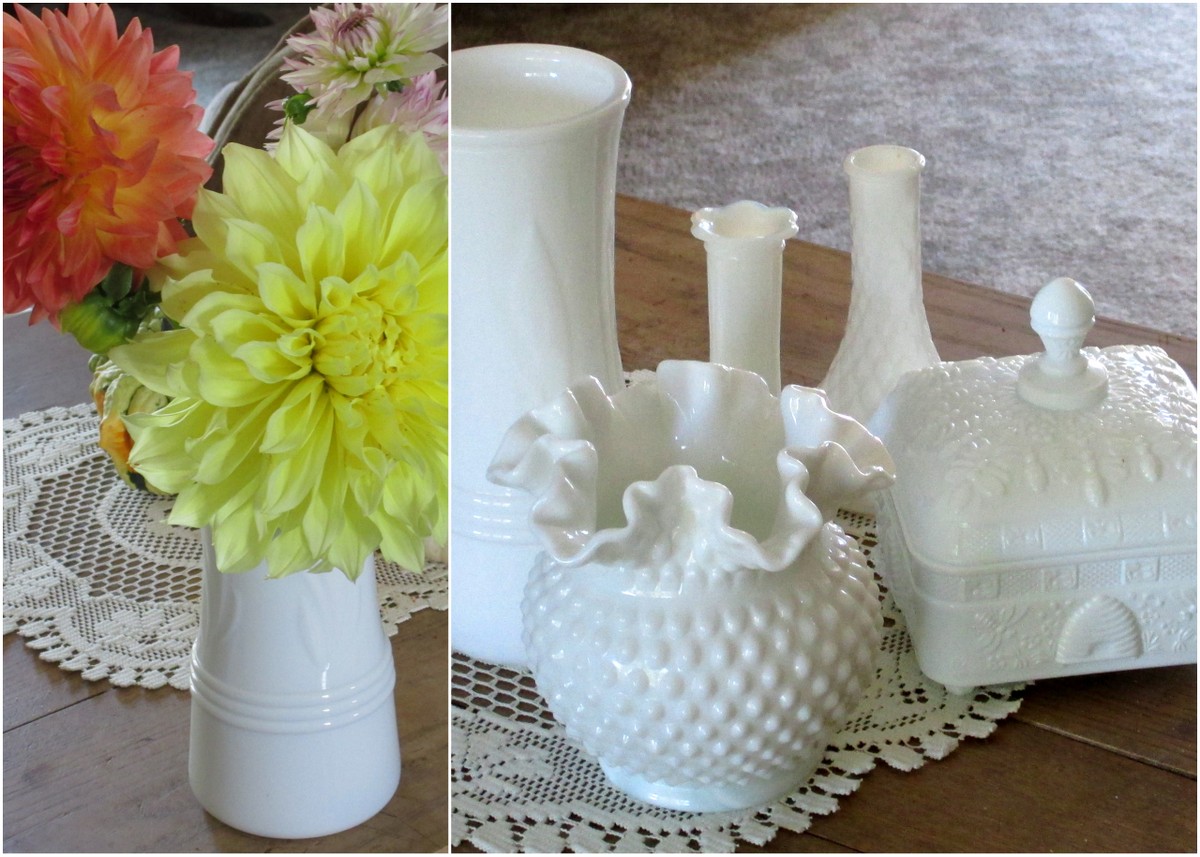 There's something that shouts "grandma's house" about milk glass. It's easy to find in white when you're checking out secondhand stores and thrift shops. It's common for the store to make up a section of shelves or other special displays to feature it.
This glass is the kind of thing that you may well have already on hand. That's what I did, started to create a special collection specifically for farmhouse style just by raiding the dish cabinet.
Vases are easy to find if you're just starting out. I have several in my collection, including the tall one with the colorful dahlias. It has embossed leaf outlines on it, as well as the three rings, and has a good weight for its height – nice to prevent spills when it's holding a bouquet.
Also shown is a hobnail short vase with a frilly edge by Fostoria, and a square bee-motif covered box by Tiara, to hold comb honey.
When I'm shopping, I remind myself to look at the top and bottom shelves, to spot some of these kinds of pieces. There is a lot of milk glass out there to find, in all kinds of piece types: including plates, cups, relish dishes and bowls.
Like any vintage glass, remember to check for chips and cracks. And the surfaces should be shiny, not dull from improper cleaning (though they're still perfectly useable).
Milk glass was made in pink and blue, as well as white, though those pieces are harder to find.
White Ironstone Dinnerware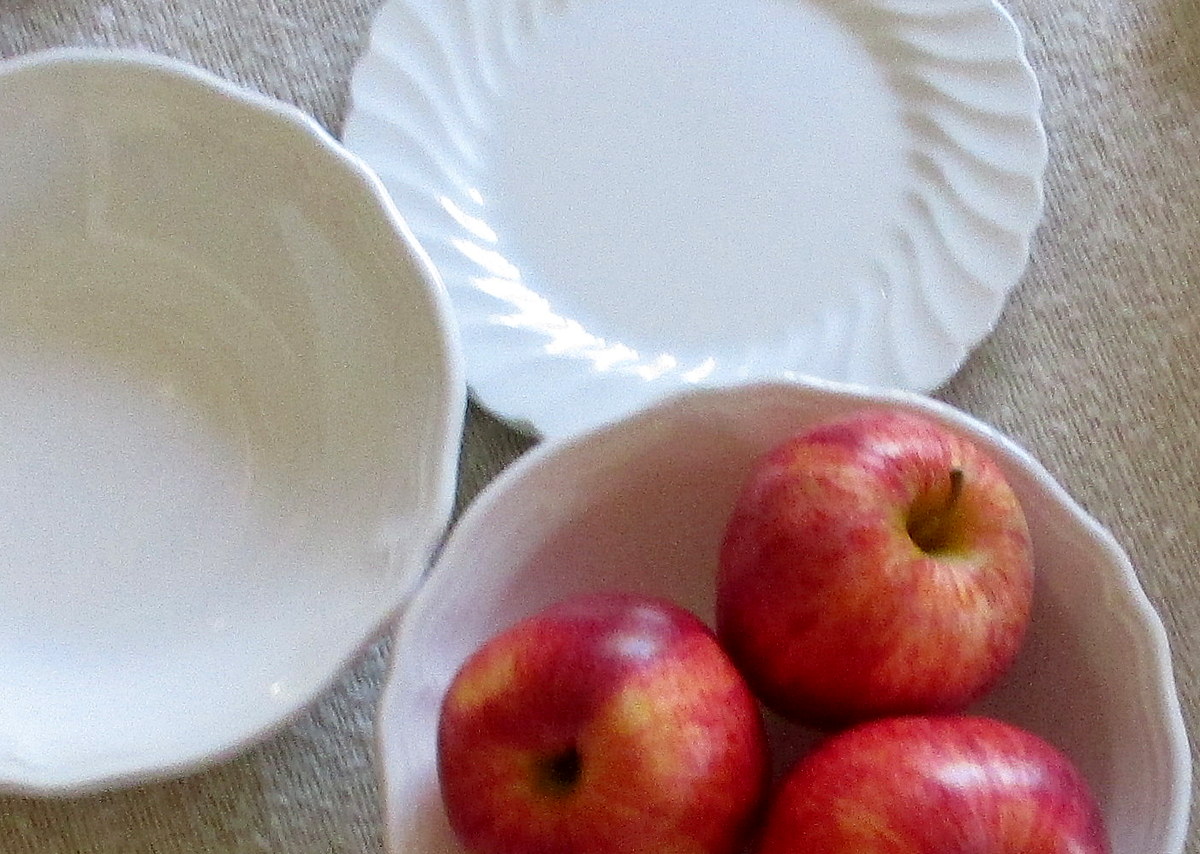 White ironstone was the next kind of dish I thought of to add to a table setting in farmhouse style. The bowls shown are in the Federalist pattern by Sears. This dinnerware has remained popular for years  even though it was discontinued more than 40 years ago.
I was happy to find these bowls in perfect condition, along with the little Regency-Snowhite plates by Johnson Brothers, made in England. These will be very sweet to serve a small dessert or classic dinner roll. There are multiple variations of this swirl shape decorated with different motifs. Some have silver or gold edges. The plain white was made for more than 40 years, but has been discontinued for more than 12 years.
Depending on your color choices, there are many ironstone patterns to collect for your farmhouse dinnerware set. The Sears line alone has at least six different versions in this shape (Federalist and Mayhill), including with the classic plain white.
As with all china dinnerware, watch for chips, cracks or crazing when shopping for vintage pieces.
Drip and Sponge Decorated Dinnerware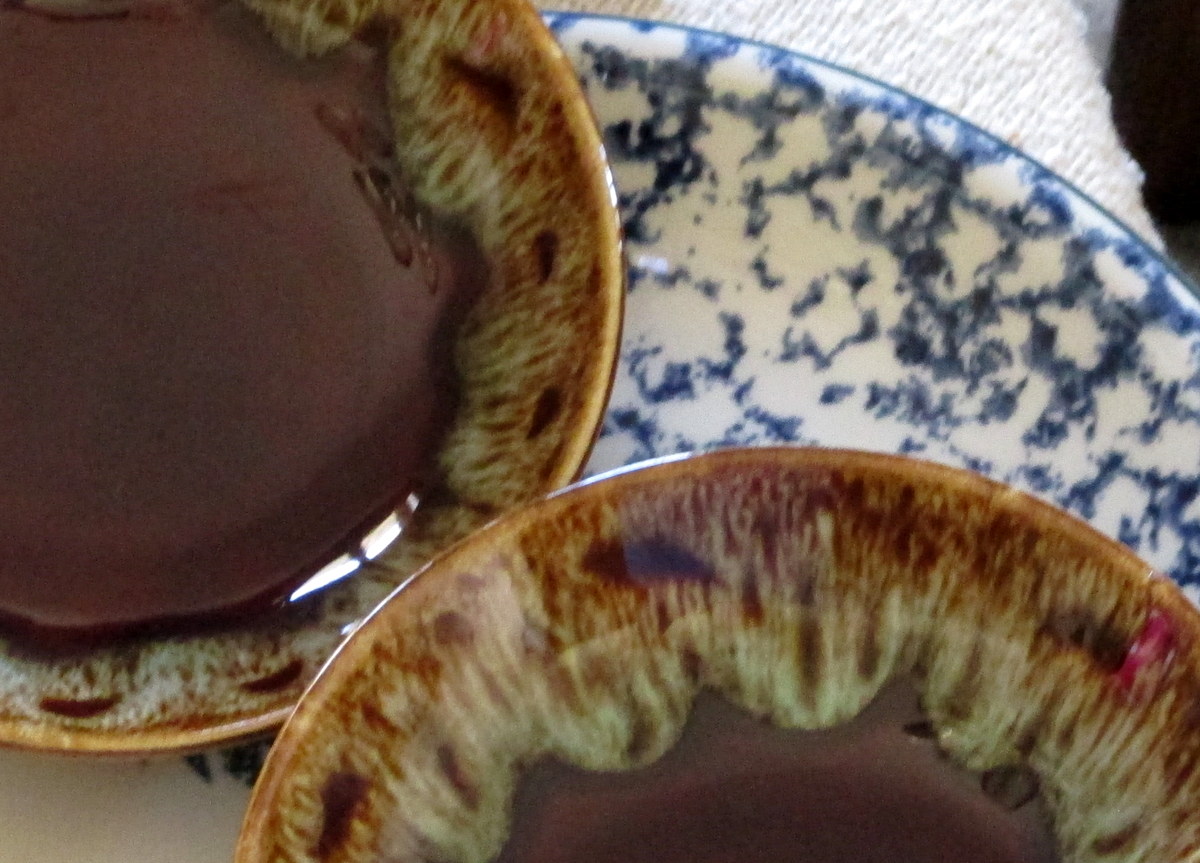 If you want to add some rustic color, there are dinnerware patterns in dripware and spongeware patterns to consider. Both these terms describe how the glaze was applied to the piece before firing: drizzled or dabbed. That gives them a handcrafted quality that fits well with my ideas of life on the farm in times past.
The brown fruit bowls are not marked, but look for makers like Hull, McCoy, and Pfaltzgraff if you're seeking this kind of china.
The spongeware plate is by Tienshan, which made several patterns in different colors that feature sponge-decorated pieces. Pfaltzgraff and Hartstone also made patterns with this kind of decoration.
I found plenty of dishes and vases by a quick search though my stuff. Farmhouse is a style that speaks to what I like. I might go with more color than what I saw in most of the magazines, but that's okay. Style should evolve, and ultimately be what you like.
If you're looking to get started on a farmhouse collection, these are just three ideas to chew on. More to come!




by