It is so nice to hear customer stories about how much they are enjoying the vintage dinnerware we helped them find. Sometimes they are finding the pieces to complete a collection. Other times, to start a new one.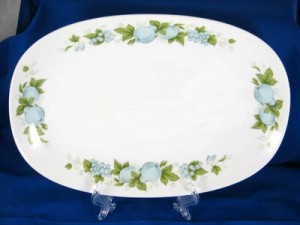 A box of vintage dishes in the Blue Orchard pattern went on its way this week, to charm a new kitchen in a new home. This dinnerware is from the 1970s vintage Cook n' Serve line by Noritake, which I've mentioned before. (Marguerite is one of the other patterns in this line.)
It is heartening to connect people with special china and dinnerware - different than the thrill of the hunt in the first place.
This is how the story ends. Knowing that special pieces are going to good homes, to be used, loved and enjoyed, adds a special feeling - makes it even more fun to go out there and find dinnerware sets and other tableware items in need of being matched to owners who will use and appreciate them.
I know, these are not living things. But they are still special. They were crafted with care and have lots of useful and beautiful life left in them, if they can get into the right hands. (I know what happens to stuff that stays on the store shelf too long, and it's not pretty.)
Vintage is green if used and reused.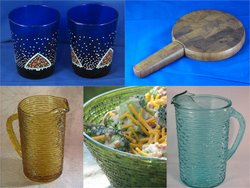 Recently I got to explore the Love of Vintage in a pair of interviews with an online colleague and fellow blogger, Mitzi Swisher of Vintage + Goodness, who also enjoys vintage finds.
I set up a page on this blog, Hunting for Vintage Dishes, where you can listen to us interviewing each other.
On that same page, I've also posted a link to a new, short video, Vintage China and Dinnerware, which is now on our Kimbesa's Closet YouTube channel.  (Just click the Hunting for Vintage Dishes link above and scroll down a bit, or, you can play the small version below.)
This was an experiment, created using a tool called Search Stories by Google.
Playing with technology can be fun...almost as fun as playing with vintage china and table setting ideas!
About the photos: Platter in the Blue Orchard pattern by Noritake. In the collage, a few of the things we talked about in the audios. Top row, Dansk glassware and cutting board. Bottom row: Soreno by Anchor Hocking in gold, aquamarine and avocado green.




by