A question from a reader, Beck, prompts this post. Do you ever see dishes in the marketplace that look a lot like your favorite pattern?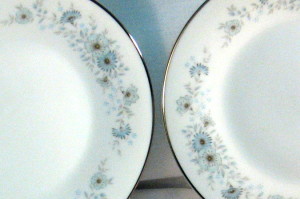 And, when you flip, you see a frilly scroll mark with "made in China" under it.
Probably not the match to grandma's china.
I've seen this kind of mark on dishes a number of times in my travels. I've never bought them, though they look perfectly fine.
When I want my favorite patterns and brands, I know the marks to look for.
Was It Real or Faux?
Beck's grandma's china reminded me of a Noritake pattern that I've seen, called Inverness. This is a vintage dinnerware design from the 1960s era, made for about 15 years. It has a lot of charm and classy style. It was made in Japan, like the Noritake china of that time.
Noritake has also made dinnerware in Ireland and other places over the years, depending on when.
If you're looking to match a favorite vintage dinnerware set, check the marks, and that will tell you a lot, before you head out to shop for those special pieces.
Depending on your purpose, you may be okay with dinnerware that approximates those special patterns. Or "faux" may not do, and you want only the real deal.
Thanks, Beck, for asking!
(PS...both photos in this post show genuine Noritake's Inverness pattern china, not an approximation pattern.)




by