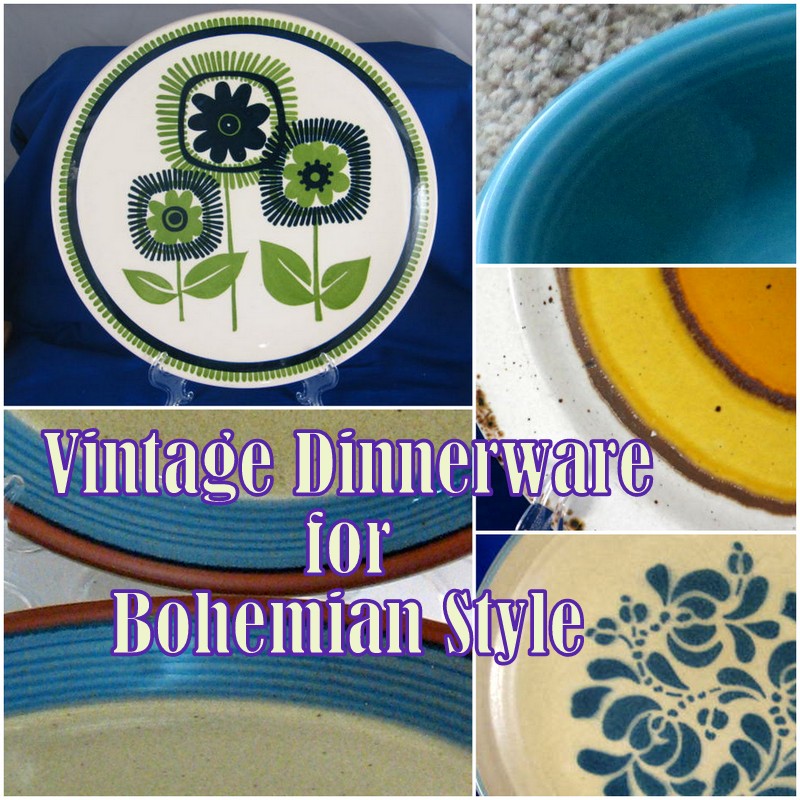 The first thing I noticed about bohemian style is how much it reminds me of the 1970s. This trend caught my eye the first time I saw it in a decorating magazine.
Many of the photos highlighted "found" items or personal collections based on years of living and travel.
Vintage dinnerware, found in many, many thrift store and estate sale visits. It's a style that suits all of us who like the thrill of the hunt.
What is Bohemian Style?
There's a great book about this style, The New Bohemians: Cool and Collected Homes by Justina Blakeney. The sections are organized around these themes: modern, earthy, folksy, romantic, nomadic and maximal.
Some would describe this look as unconventional, hippie style, and eclectic, featuring bold colors, a handmade look, heavy on the natural materials and motifs.
The photos in this book show exuberant layers of books, dishes, textiles in the rooms. Bohemian rooms are full of wonderful things, yet comfy and livable. Many of the items are found or repurposed.
Any style that showcases collections and puts plates on the wall has my attention.
That got me thinking about which vintage dinnerware patterns and product lines would work with a bohemian décor. There are a lot of candidates that fit the vibe of this style.
Mix and match is the name of the game in bohemian style.
6 Vintage Dinnerware Patterns for Bohemian Style
I had to limit myself to choosing only six. There are a lot of dinnerware patterns that can fit, if you're building a set of dinnerware to fit this decorating style. And whatever you find and like is a good candidate, too.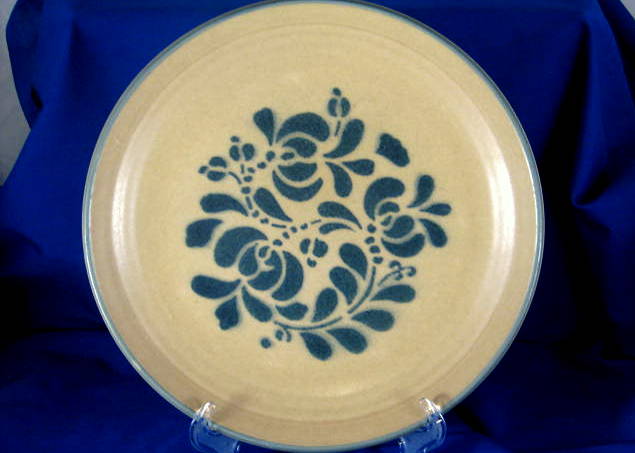 Folk Art by Pfaltzgraff
Made from 1980 and still active, though the more recent pieces are made overseas, and you may prefer the look of the older, American made dinnerware.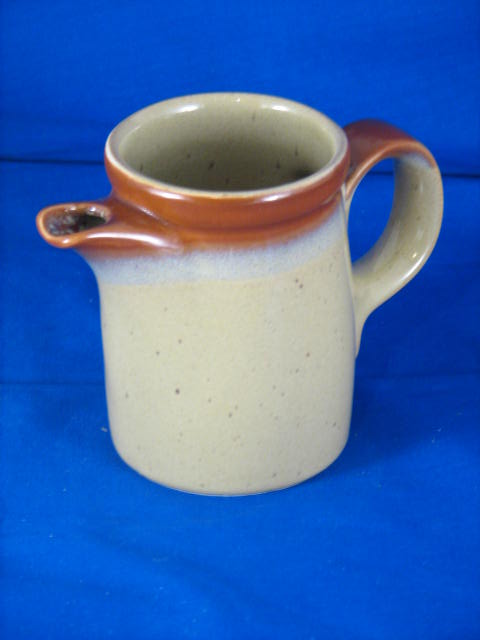 Potter's Art by Mikasa
This dinnerware line includes a number of patterns, such as Country Cabin. The pieces have the look and weight of handcrafted pottery, balanced with finished glazes that give the pieces a more refined style.
This ware was made in the 1970s and 1980s. Other patterns include Buckskin, Sahara, Sand & Sea, Blue Honey and Cummerbund.
One of my previous posts about this Mikasa dinnerware.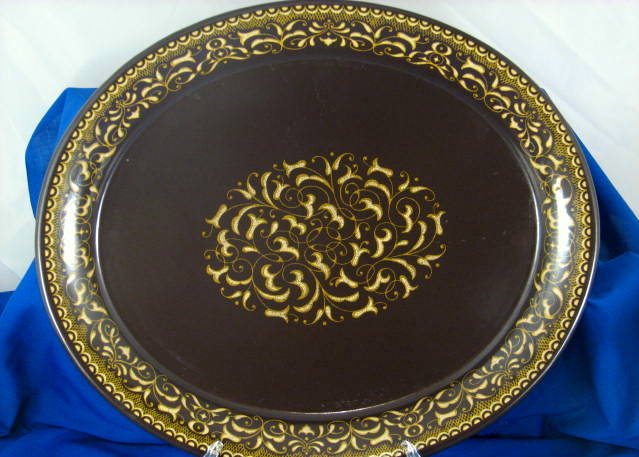 Madeira by Franciscan
Made between the 1960s and 1980s, both in the USA and England. There are a lot of pieces out there to be found, and it has the bold look that goes with bohemian style.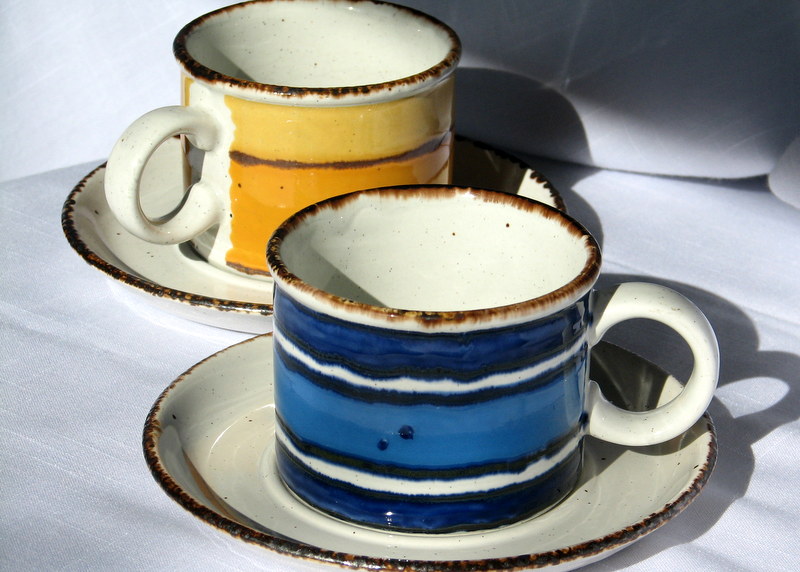 Sun and Moon by Midwinter
Both are true 1970s style, though Moon pattern was only made for a short time. Sun was made for more than 10 years, and there are a lot more pieces out there to be had.
Ruija by Arabia
This china was made in Finland, dating from the late 1970s. This pattern also has a rustic, folk look and feel. Many Arabia and Scandinavian dinnerware designs can fit with the bohemian style.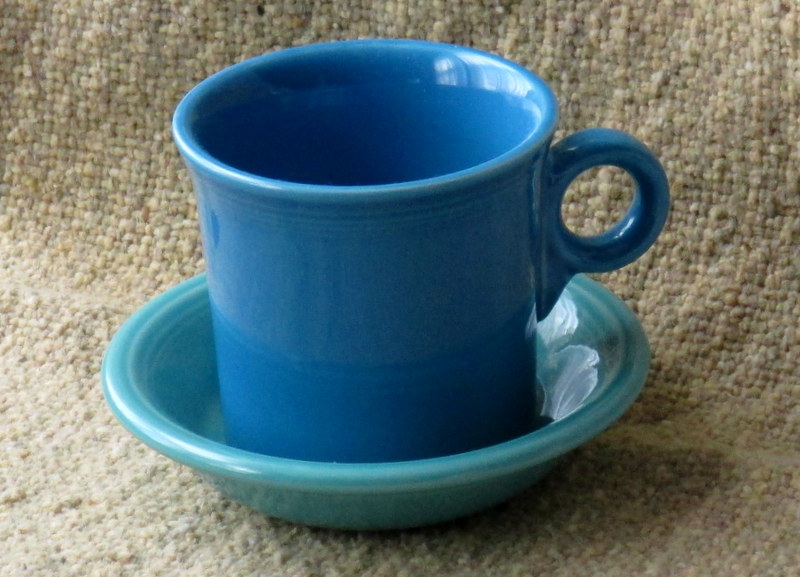 Fiesta by Homer Laughlin
It's vintage and it's new. Fiesta dinnerware is a topic all by itself. If you want a quick collection of bold colored dinnerware, the colors of this product line could perfect for you, like the peacock blue mug and turquoise bowl shown above.
And you can get some of the modern piece types (like square salad and dinner plates) that older patterns did not include as well.
Fiesta even makes matching bakeware and cookware in some of the colors.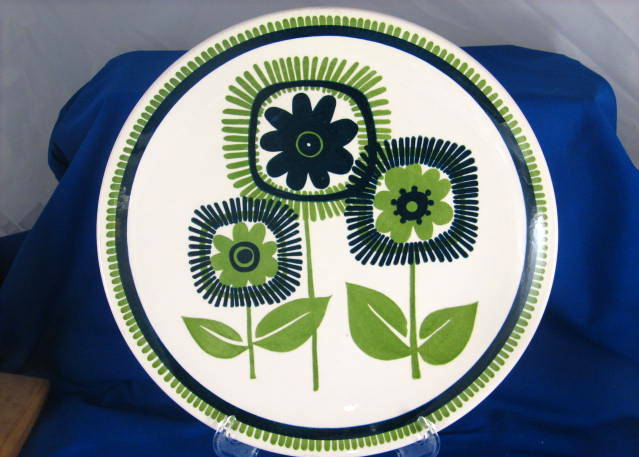 I Know It When I See It
That would be bonus dish pattern No. 7.
This chop plate has no maker's mark, and it took me a while to identify it. It's called Triple Treat by Royal (USA). It's wonderfully retro, perfect for this style.
There are lots more vintage dinnerware patterns that can work with bohemian style décor in your home. Many of them were made in the 1970s and early 1980s, in the USA and in Japan. They are well-made, durable, bold, warm and earthy. Great to find and use as you develop your collection.
Vintage and new can mix together in lots of different table settings.
The Best Thing About Bohemian Style
For me, it's that you can mix and match almost anything you like. It's about showcasing your collections. If you like it, display it for all to see.
Bohemian style calls for you to put your different dinnerware patterns together. If they all fit a general theme, such as a color or motif, try them out and see how they work together.
There is a lot to love when you collect vintage dinnerware with an eye to bohemian style
More to come: vintage glassware for this eclectic style.




by