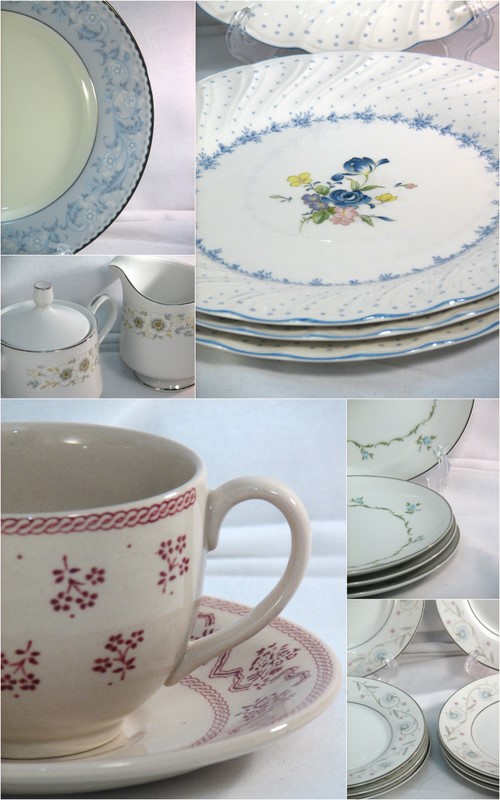 When you begin to consider using vintage dinnerware as part of your vintage wedding celebration, where to start?
Will it be too difficult to find enough china for all the people? Can you use it along with other dishes, or mix and match vintage china patterns, to get enough for everyone?
Will your menu present any considerations, if you'll need special serving pieces, flatware or other elements for the table? Can you find the right colors and shapes to go with the overall design?
It is certainly possible to use vintage china for a wedding. There are lots of elements to consider.
If you have some china patterns in mind, then you're part way into the plan already. If you have no idea of which vintage patterns you might like to use, then start with a more general approach, to help focus in on whether this is a viable option for your wedding plan.
Consider these points when thinking about using vintage china as part of your wedding plan
Scope of the event. Rehearsal dinner, wedding dinner, buffet. Will you use this china for everything, or just part of the activities.
Number of people. Will you want enough dishes for serving the cake, the dessert buffet, the head table, or the entire event.
Color scheme and theme. Will the dishes need to match, or will you use an eclectic mix around a theme or color scheme.
Time to acquire. How much time do you have to assemble the dinnerware and any other pieces you need, such as serving pieces, glassware and flatware.
The availability of vintage pieces from secondary sources is not always predictable. The fewer pieces you need, and the more time you have, the better for lining up your tableware.
Your wedding planner may be able to help you, or you may wish to take on this part of the preparation as your own special project.
If you are adding some place settings to grandma's china, your task may not take much time. If you're planning to get a service for 12, someone else may need to help you get the dishes, especially if you need to hunt for them use multiple sources.
Using vintage dinnerware in your vintage wedding plan will add your own unique stamp on your special day. With a little advance planning, finding the dishes will go smoothly. With planning and serendipity, you'll acquire some beautiful china that you can enjoy for years to come.
About the photo: From top left. Montebello salad plate by Noritake, Blue Peony dinner plates by Nikko, Andover creamer and sugar by Carleton, Petite Fleur Pink cup and saucer by Laura Ashley for Johnson Brothers, Abby salad plates by Wyndham, English Garden salad plates by Fine China of Japan.




by