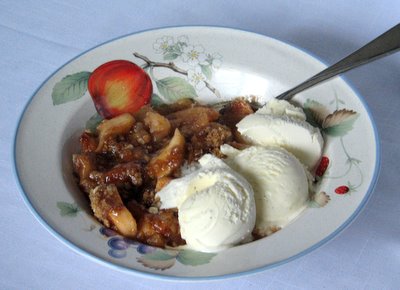 Luscious is the name of this china pattern by Savoir Vivre, made in Japan.
Here the soup bowl includes a serving of warm apple crisp and vanilla ice cream.
The fresh apples came straight from a local produce market. I used Paula Red, an early variety.
The Luscious pattern includes apples in the motif, as well as grapes and strawberries.
If you are doing an apple or fruit-theme kitchen or table setting, this is one dinnerware pattern that can add charm to your environment.
Rimmed soup bowls like this are generally used for soup, but no reason not to get them out for desserts like this, where you want a dish with sides to keep everything together.
I like to serve apple crisp while still a bit warm from the oven. The ice cream will melt, but that's not a problem, because this dessert is going to be eaten quickly.
If anything, be sure and get lots of apples, because you will want to make another crisp or two.
As the apple season progresses, I'll switch over to Jonathan or perhaps Braeburn for the next dessert.
Vintage china...I get to use and enjoy that over and over again!
About the china: Luscious by Savoir Vivre was made for about six years in the 1990s.




by