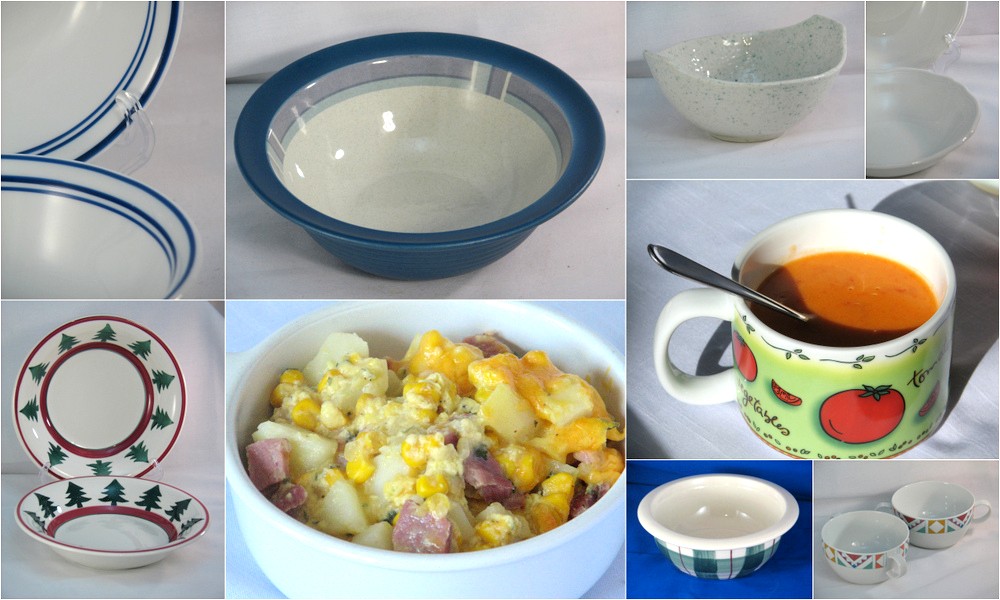 Winter cold outside means time for chili indoors.
Frigid weather has arrived in many places. Keep warm inside with a hot bowlful of your favorite casserole, or have some hot chili, soup, stew or chowder. Comfort classics, like apple crisp also serve up well in bowls.
Things you always wanted to know about bowls:
Cereal bowls are deeper, to allow for the bulky flakes or squares, while soup bowls are often shallow.
Some soup and cereal bowls have rims, and others are a coupe shape. That is, sleek without rims.
Rims on soup bowls are often wide, while rims on cereal bowls are narrow.
Soups that are served with crackers do well in cereal bowls.
Some dinnerware manufacturers make both soup and cereal bowls in their product lines. Others make an all purpose bowl to use for both.
Soup mugs may have one or two handles. One handle is often the stick style. Two handles are usually open, like a coffee cup.
Extra large soup bowls can double for serving pasta, such as spaghetti or mostaccioli.
Links to some favorite recipes:
Macaroni and cheese
Tuna casserole
Cheese broccoli casserole
Potato ham and corn side dish
Noodle hamburger corn casserole
There is a bowl for every dish, especially when you factor in the vintage kind that you used as a child. Perhaps it was at grandma's dining table. What a special gift, to give or get, a set of bowls to use and remember those special times.
When it is cold outside, just stoke up the stove, and make a big pot of your favorite comfort food. Then you can enjoy the snow outside, as you savor a hot meal that warms you inside out.
About the photo:
Bowls shown, from top left: Classic Cafe Blue by Corelle, Blue Denim by Johnson Brothers, Turquoise Spatterware by McNicol, Federalist White by Sears. Next row down, left to right: O Tannenbaum by Pier 1, Grab It by Corning Ware, Tomato soup mug by Jocha. In the lower right corner: Buffalo Check chowder bowl by Hartstone, Metrico soup mugs by Thomas.




by