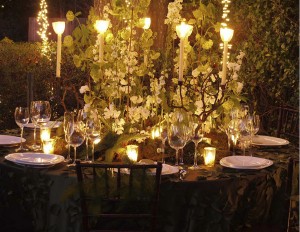 Dinnerware featured in a movie? Be still my heart!
Twilight by Carmona is your key phrase, to see the wonderful bone china dinnerware that is featured in the latest film in the Twilight saga.
As fans know, Bella Swan (human) and Edward Cullen (vampire) get married in the film version of Breaking Dawn, which opens tomorrow, November 18.
There's a nighttime wedding and reception scene, and as you might expect, there has to be a beautiful and classy table setting for this very special event.
The marriage of Bella and Edward has been anticipated for at least two prior installments of the Twilight story.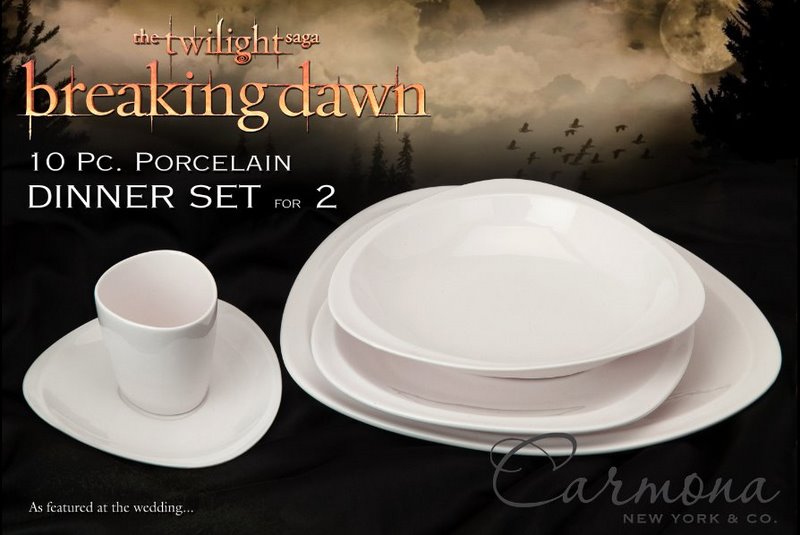 This lovely dinnerware is just what you'd expect for this long-anticipated wedding.
Simple and sleek, with lots of style via the shapes, the pure white color, and made exclusively for Carmona New York in bone china.
(All bone china is porcelain, but not all porcelain is bone china. It depends on the types of materials used in composition of the ceramic body of the piece.)
I've seen similar shapes in classic Mid-Century Modern wares from 50 or 60 years ago, but those are generally made from earthenware, a different clay mixture, and more porous, than fine porcelain and bone china.
This sleek, white bone china takes elegant to a whole new level.
Can't wait to see how beautiful this looks in candlelight on the big screen!
Check out the dishes at Twilight by Carmona, and find them via Facebook as well.
Photos courtesy of Carmona New York and Media Maison, as well as Summit Entertainment.




by