So simple, tuna sandwiches are easy to make as the weather warms up. Keep the filling cold and bring it out for a quick lunch around the pool, or even a picnic if you can keep the sandwiches cold and eat them promptly.
Never had an exact recipe for this one. I like lots of pickles, so I head for the high side. The celery seed is often easier, but the fresh celery is nice for a change, and to give it more crunch.
Tuna Salad Sandwich Spread
2 small cans tuna, drained
6-8 hard boiled eggs, chopped
4-6 large sweet pickles, chopped
1 t. celery seed or ½ c. celery, chopped
Enough mayonnaise to dress (start with about 1/3 cup and add more as needed)
Salt to taste
A couple of lettuce leaves goes nicely on this sandwich as well, if you have them. I also like the low-fat mayonnaise (vs. no fat).
For your choice of plate sizes, serve it on a luncheon plate to allow plenty of room for a fruit cup, a dessert in a fruit bowl, some grilled vegetables...you get the idea. Some plain glass Pyrex custard cups would work well. Some white milk glass custard cups could work for a cup of soup.
When I make tuna sandwiches, I like to get everything else ready while I'm cooking the eggs. Then chop the eggs warm, and have a sandwich right away. I like the freshness of "just made" tuna salad. Then refrigerate the rest for later.
These sandwiches make a cool lunch on a hot day...
You can also put this filling on bread open face, top with a slice of your favorite melting cheese, and give it 15 minutes in a toaster oven, on a baking sheet. At home we did this with Velveeta cheese. For a different taste, some Gruyere Swiss is good, and melts well.
I also like my pickles and eggs cut a little bigger, along with the rustic bread. But if you want to use this for a tea party, chop everything very fine, and serve on those thin tea breads. You can make the filling ahead, and assemble the sandwiches right before you will serve them.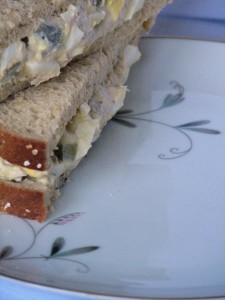 About the photo: Tuna sandwich filling on Crunchy Oat bread by Aunt Millie's (one of my favorites, has almonds in it as well). Plate is in the pattern we christened "Pea vine," a vintage Noritake luncheon plate.




by