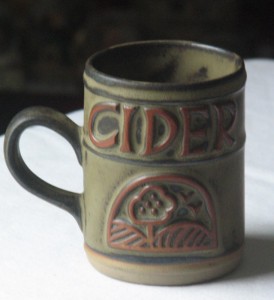 Tremar Pottery was made in Cornwall, and this cider mug is returning home!
A kind customer clued me in about this distinctive vintage pottery and the name Tremar, because on this piece the impressed stamp was near the edge. It had lost its second "r" and read Trema.
I looked at several websites that had photo galleries, illustrating many Tremar pieces. The matte finish glaze is subdued, emphasizing earthy quality of the pottery. I can imagine this ware in Hobbit homes, perhaps the houses of Bilbo Baggins or Samwise Gamgee.
The village of Tremar is a few miles outside the town of Liskeard, in eastern Cornwall, on the south coast of England. The pottery was established there in 1960 by Roger and Doreen Birkett. Their production included hand-thrown pieces, and later molded ones.
Tremar Pottery made many house wares and collectibles, including mugs, figurines, kitchen storage and serving pieces, like honey, marmalade and rice pots.
Once you see a piece of this pottery, you'll have a sense of the funky, rustic design. I can see the 1960 influence in the shapes, and especially the lettering and the animal images.
Tremar made 17 different mugs, including the cider mug. There is also a real ale mug, a Celtic motif mug, and a country mug collection which each have one of six different animals. There are two other designs with oval emblems – one owl and one osprey.
I also thought the small buildings and coin boxes were charming in their naiive and whimsical renditions. Their focus on the tourism market, and the broad appeal of the wares, means that Tremar has traveled home with many vacationers to Cornwall, and is well spread worldwide.
The company closed in the 1980s, like many of the small pottery companies around the world, as the markets changed, and competition became more formidable.
I can see why people collect this delightful pottery. Tremar now has a place on my "looking for" list for scouting trips!




by