The simple beauty of white dinnerware is classic. You cannot go wrong with a table setting based on this elegant color.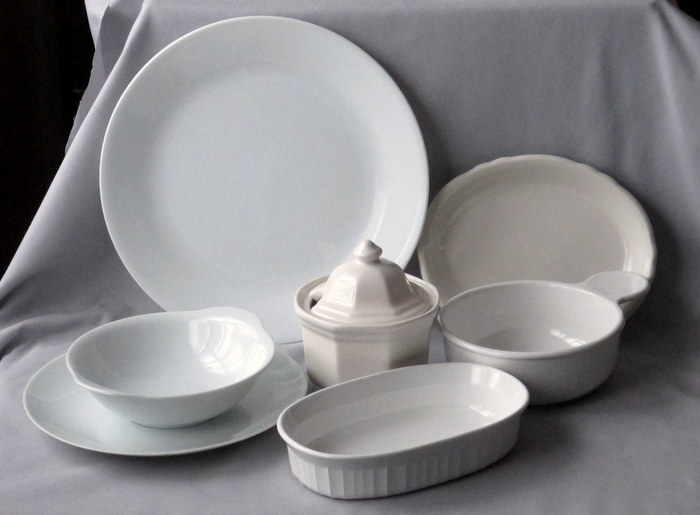 Some tones are creamy, some are bright, but no matter the specific white shade, the impression is understated and refined. The differences in the white tones give texture to your table setting, when you mix different wares together.
I also like the way that food looks on white and light-colored dinnerware, because I enjoy how tasty it looks, as a prelude to eating!
Serene and Classic White Dinnerware Patterns
Monochromatic color schemes are calming, too, whether on your dinner table or elsewhere in your home.
White dinnerware patterns in sleek and modern shapes coordinate well with each other, as do those that feature traditional shapes. I've got a mix of shapes in the photo. Some of the most modern shapes are vintage, with Mid-Century Modern influences.
I pulled this collection of dinnerware together in just 5 minutes. If I dip into my china storage, I know there are other examples of white dishes tucked away.
Clockwise from the top left:
Dinner plate in the Winter Frost White pattern by Corelle (made for more than 40 years)
Small oval plate by Homer Laughlin, restaurant ware
Grab It bowl with nubby handle by Corning Ware
Small oval casserole in the French White pattern by Corning
Jam jar in the Heritage pattern by Pfaltzgraff (made for more than 50 years)
Salad plate and lugged cereal bowl in the Savoy pattern by Noritake (vintage 1950s-1970s)
The longevity of these patterns demonstrates that white dinnerware is popular and timeless.
The plain white Corelle is a workhorse at our house. It's easy care, sturdy, and goes in dishwasher and microwave. For quick, everyday meals, this dinnerware works well for us.
A basic white color palette makes it easy to add some sparkle with crystal and flatware, to tailor your table setting to any particular event and menu, as you wish.
A white theme also makes it easy to mix vintage and new pieces, to help make all the place settings you might need for a special dinner with extra guests.
More About White Dishes
I've written about other white dishes before, in particular:
Whether you cook for a few or a crowd, prefer formal or casual meals, or need specialized piece types to suit your menu, there are white dinnerware patterns that will help you create the table setting that will need your needs, and your style.
And if you have special, colorful serving pieces, or a spectacular centerpiece, the white look will help you show them to fullest effect.
When you're choosing your next dinnerware pattern, you cannot go wrong with white!




by