Whether you're serving candy corn or pizza, some colorful dishes can bring sparkle to your table for Halloween, and for parties on the day or the weekend after.
It's also an opportunity, once again, to play with mix and match table setting ideas.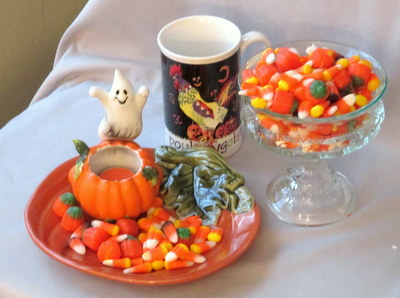 Here I've brought in my very favorite Poultrygeist mug. He turns up around here in the strangest places, and not just on Halloween. Could there really be a ghost in the china?
The glass compote is vintage, in the King's Crown or Thumbprint pattern, made by Indiana, Wright, US Glass and others. This example is plain clear glass, but there are pieces in this type and pattern in colors, applied gold edges, and ruby flash as well.
The mixed candy corn and pumpkins give it lots of color, and the open shape makes it easy to grab some as you pass by.
The ghost and pumpkin tea light holder is by Partylite. He's got some soot, as well as some chips, but not too much to keep him from retaining his charm and usefulness.
He was so sweet, I had to rescue him from the thrift store. Maybe someone else would have, but we know that bad things happen to the stuff that stays on the shelf too long.
The pumpkin plate is new, from the Better Homes & Gardens line. These can be had at major department stores that carry that product in their housewares sections.
This size is handy for desserts or salads, and they make a larger one, too, if you need it for other dishes, or to use as a charger or serving plate.
More Halloween Table Setting Ideas
I've written about this topic in other posts, too.
Halloween has turned out to be an eclectic holiday, second only to Christmas as the most-decorated-for event of the year.
Your table setting can be quirky and eccentric for October 31, and with your creative eye at work, many of the dishes can do double duty for Thanksgiving and other special dinners.




by