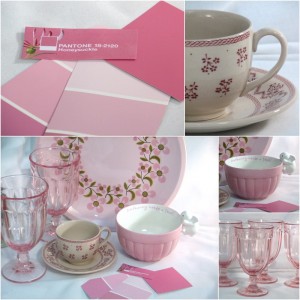 Pink dinnerware and glassware are in style for 2011 table settings.
The color specialists at Pantone have chosen Honeysuckle Pink as Color of the Year for 2011, as part of provide their color consulting to industry.
Vibrant pink: this is another color that has cycled in and out of fashion. This color designation is born from, and will influence design and fashion in all kinds of products.
When it comes to dinnerware, china and table setting fashion, go ahead and head for pink! Whether you're looking for a feminine pink table setting, a charming cottage version, or a modern and eclectic set, pink can be your color.
In addition to new tableware items in pink, you can find vintage pieces from the 1950s and 1970s.
Tips to get started with your pink tableware collection
Collect samples or paint chips in the shades of pink you have, or want to find. Notice that there are cool blue pinks, warm coral pinks, and many, many shades in between. You can check the Pantone site to see details of honeysuckle pink, and print out a page to use as a sample for shopping.
Choose the piece types you want to get. Accessories will add a pink sparkle, such as salt and pepper shakers, glassware, and table linens. Or go for a whole new set of dinnerware to add to, or change, your entertaining style.
Shop for your new goods. New, or new to you, vintage items. Solid color, or patterned pieces. Online shopping venues, as well as brick and mortar stores, will have selection to fit your criteria. Even yard sales…I've found that if you make your list, you'll be surprised by what you can find in the secondary marketplace.
Your efforts to add pink to your table setting palette can pay off for years to come. Pink dishes are a great fit for spring, summer, girl birthday parties, Mother's Day and many other warm weather parties, in 2011, 2012 and beyond.
About the photo: Honeysuckle pink from the Pantone website, along with paint chips to help coordinate dinnerware and tableware accessories. Also shown, pink glass iced tea goblets in the Arlington pattern by Mosser. Cup and saucer in the Petite Fleur Pink pattern by Laura Ashley for Johnson Brothers, vintage dinner plate in the Lollipop pattern, Pastelle line, by Mikasa, and Somebunny mug by Hallmark.




by