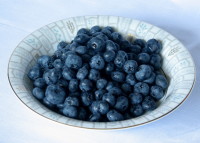 Finishing off the last of this year's luscious blueberry crop from Michigan farms. It has been a great year for this fruit. And, an excuse to get out a gorgeous bowl for the feast.
The Berkeley pattern by Noritake was made from the mid-1950s to around 1960.
I've only found a few pieces of Berkeley (spelled like the city in California, not the town in Michigan), and I keep this for special use. Not the kind of dinnerware to put in the dishwasher, or otherwise clean with harsh soap.
This is one of those patterns that's the dinnerware equivalent . . . → Read More: Blueberries and Berkeley – Vintage Noritake