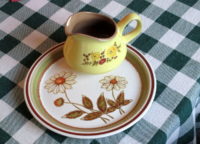 Any time is a good time to shop for vintage dishes, and especially now, when there seems to be more and more available in secondhand marketplaces.
Where I live, there are new stores that have opened, and the regular thrift shops are often stuffed to the max with vintage wares.
I handle my shopping via my permanent shopping list, set up with categories to help me keep some kind of focus. If I didn't do that, I might spend half a day in a single store. A nice idea, but I do have a life outside of vintage dishes.
. . . → Read More: More Pleasure Vintage Dish Shopping