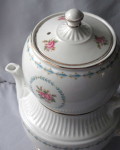 Ever uncover a vintage find and say, "That's mine" out loud? An outstanding china coffee pot did it for me. Mount Vernon, Harmony House by Hall.
This piece is not like my usual thrift store finds. It must have just been put on the shelf when I saw it. Fluted and scroll details, gold rims and footed shape.
That coffee pot was in my cart for review in seconds. Coupons helped me take it home at a very good price.
When I looked it up later, I found that the Mount Vernon pattern was made for Harmony House by Hall, . . . → Read More: A Classy Vintage Coffee Pot