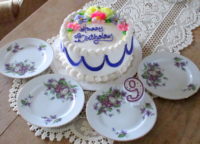 Another year older: Happy Birthday, Diary of a Dishie!
I found these pretty dessert plates with violets on them, February's birthday flower. Looks like a few white primroses, too, on a white background with gold rims.
This pattern is called Beverly and was made by Aichi China in Japan. I'm not familiar with this maker, though my research shows they have made other floral dinnerware motifs, available through vintage dinnerware outlets.
This pattern is typical of vintage dinnerware designs from the 1950s and 1960s.
There are lots of floral dinnerware patterns available among vintage wares. I only found . . . → Read More: Vintage Violets and Birthday Cake