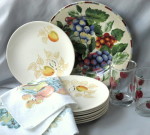 August is high time for fruits we love, and dinnerware patterns that feature these fall fruits are in season all year round.
On my list of favorite fruits: apples, peaches, pears, grapes and plums.
Dishes that feature these motifs catch my eye when I'm out scouting for dinnerware and glassware, just as their inspirations are when I visit the farmer's market.
Luscious fruit always looks good on my table, from the foods to the dinnerware.
Classic Colors – Tasty Themes
When I saw this group of vintage bread plates, the "that's mine" bell sounded in my head.
Of course, I . . . → Read More: Enjoy Fruits of Fall Dinnerware Patterns