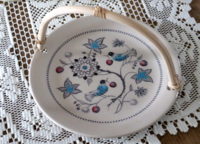 Cherry Thieves is a vintage Johnson Brothers china pattern from the late 1960s. It features birds and cherries, on stylized tree branches.
A reader, Priya, wrote to me about this pattern, and I've been looking into it ever since.(Update: found!)
Until I found this pattern, the closest I got was a similar Johnson Brothers pattern from the same Old Granite line.
Since this pattern is hard to find, here's the question: what can one do to pull together a charming table setting, without more dinnerware in the same pattern?
Start With The Goal In . . . → Read More: Complementing Vintage Dinnerware – Cherry Thieves