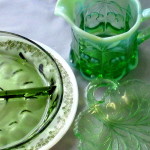 When it comes to St. Patrick Day's (and other "green" holidays), if your dinner table is wearing green today, you have a lot of choices in vintage dinnerware and glassware. These are just a few examples.
Just choose your favorites. Greens are easy to mix and match.
Green also works for Easter, and for the spring season in general. If it's your favorite color, so much the better!
(I just couldn't resist the green Peep!)
In the photo, I have a Corelle salad plate in the Spring Blossom pattern, with a border of green flowers along the edge. This . . . → Read More: All About the Green – Vintage Tableware