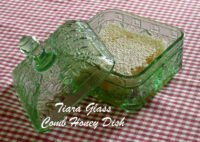 Here's a cool vintage find: a green glass honey dish by Tiara. This piece is studded on the outside with all kinds of bees and related motifs, such as the bee skeps on the sides.
It is designed to serve honey in the comb, which was more common in grocery stores in past times than it is now.
Both the dish and the comb honey are elusive to find, but if you're determined, they are out there.
I stumbled on the glass dish at a thrift store. I was surprised and happy to find it had no nicks or . . . → Read More: Tiara Glass Honey Dish – Vintage Sweet