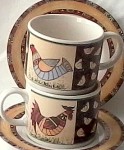 I saw these cups with whimsical chickens on them and I liked them. Of course, the matching saucers were nowhere to be found. I had to have them for my collection of chicken dishes.
It took me some time, but I found a suitable pair of saucers to go with them.
The cups are in the Chicken Kiev pattern by Sakura. Based on the shapes and color palette, I estimate this pattern is from the mid-1980s to the mid-1990s.
I really like the big chicken motifs, especially the hen.
The saucers I chose to go with the cups are in . . . → Read More: More Mismatched Cups And Saucers | Repurpose Me