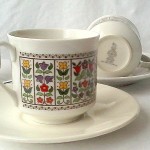 Tips to use mismatched cups and saucers for an eclectic table setting
If you shop thrift stores for dinnerware, you've probably done it, too. You just have to have those darling, charming, funky, lovely, delicate, classy, retro or just plain wonderful vintage cups in the store, even though the saucers are nowhere to be found.
You scoured the store. Because other shoppers will move things around, and you might find the fourth glass, for example, with the wooden ware. Or the underwear.
And you've returned to the store, asked the clerks, tried all the area stores of that kind, and . . . → Read More: I Bought The Orphan Cups