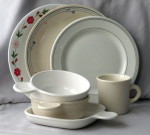 What vintage dishes would work well for a student going off to school?
I was poking around a thrift store recently, in company of some folks who were looking to outfit a grandson for his first college apartment.
They were shopping for cookware. Someone else had the dinnerware checklist.
A lot of people are looking to go second hand when it comes to items for their students. The same might be said for a first apartment for a graduate as well.
Attributes For Back-to-School Dinnerware
Practical. The dishes should be the right piece types to go with the foods they . . . → Read More: Best Vintage Dishes for Back to School