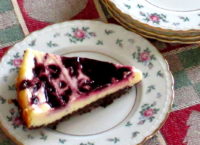 Vintage china featuring a rose motif is a classic choice for Christmas and wintertime entertaining.
The colors are traditional. Designs that feature shiny metallic rims add bling, as do the gold rim and verge line on this petite dessert plate.
The Sweet Briar pattern by Princess makes dessert even sweeter. This is a vintage pattern dating back to the 1950s, and is still available in secondary marketplaces. The high quality ware was made in the USA.
The timeless design makes this one worth seeking out, especially if you like traditional or floral table settings.
I'm serving cheesecake on this . . . → Read More: Christmas Roses – Sweet Briar and Cheesecake