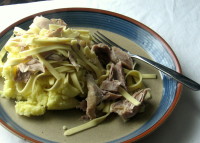 Retro style Mikasa dinnerware from the 1970s is another one of my favorites. particularly the Potters Art stoneware china line.
I've written about Mikasa Potters Art before. This dinnerware line includes patterns that were designed by Ben Seibel, a well-known designer in the mid-20th century.
Mikasa brought out these dishes in the 1970s and into the 1980s. It is heavy, substantial stoneware, and was made in Japan.
It harmonized well with the handmade/handcrafted home design trend that was popular then — a trend that is coming back now in a different way.
By the mid-1980s, glaze designs on Potters . . . → Read More: Vintage Mikasa Serves Comfort Food