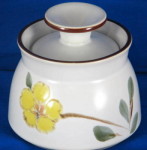 Hello Spring is the name of a vintage Noritake dinnerware pattern, from the 1970s. It's funky and chunky, representative of the full-on design sensibility of that era. We call it retro these days.
The yellow flower especially makes me feel happy. I also enjoy the handcrafted feel of the stoneware, along with the big, orange tulip and purple accent flower.
This kind of dinnerware is heavy, but it will give grounding to any table setting build around its weight and color scheme. Bold pieces hold their own in any style, or in an eclectic and creative combo.
Hello Spring pieces . . . → Read More: Welcome Spring With Vintage Noritake China