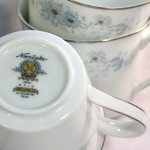 A question from a reader, Beck, prompts this post. Do you ever see dishes in the marketplace that look a lot like your favorite pattern?
And, when you flip, you see a frilly scroll mark with "made in China" under it.
Probably not the match to grandma's china.
I've seen this kind of mark on dishes a number of times in my travels. I've never bought them, though they look perfectly fine.
When I want my favorite patterns and brands, I know the marks to look for.
Beck's grandma's china reminded me of a Noritake pattern that I've seen, . . . → Read More: Vintage Dinnerware Look Alikes