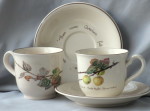 Even if you know of the book, The Country Diary of an Edwardian Lady, you might not know that this classic inspired a dinnerware set, made by Noritake in the 1980s.
The book was a publishing hit, when it came out in 1977, in a facsimile edition of the naturalist diary of Edith Blackwell Holden (1971-1920).
Originally the book was called Nature Notes from 1906. She was known in her lifetime as a teacher, watercolorist and book illustrator. This 1977 edition was a publishing success.
It would have been expected for a naturalist at that time to keep a sketchbook . . . → Read More: Noritake China Inspired By a Diary