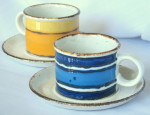 We've got a definite weak spot for 1970s dinnerware we find in our travels, especially the stoneware.
Patterns from Midwinter, Mikasa and even Noritake go great with table settings based on the days when vintage was new: back to the land, Earth Day, Earth Shoe and The Mother Earth News.
Midwinter's series of patterns – Sun, Moon and Earth – go literally with the environmental themes of the day, themes that are coming back around for another view, and revival, in our times.
The cups shown are Sun and Moon. We haven't found Earth yet, but the bands are brown. . . . → Read More: Rustic Dinnerware: 1970s Classic Stoneware