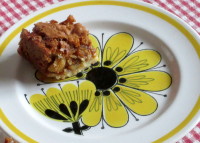 Dinnerware that shouts Retro: china in the Mediterrania product line by Mikasa qualifies. Perhaps it even sets the standard.
This salad plate in the Desert Flower pattern is a cheerful yellow, and bold. If you're a fan of 1970s style, or mixing it up with a bohemian flair, this dinnerware is worth seeking out in vintage marketplaces and secondhand stores.
The product line includes patterns in white and a color, including black, avocado green, espresso brown, blue, gold, pink and burnt orange. There are also patterns such as Blue Bird, Petals, Capri, Dominique, Rick Rack, Tiny Bubbles and Genie.
. . . → Read More: Mikasa Mediterrania Retro Classic