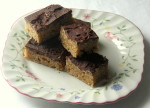 Get out the cookie jar, and make some easy, no-bake peanut butter bars for quick snacks.
Not that they'll last long.
If you're of a certain age, you'll remember Rice Krispie Bars made with marshmallows, or the version with chocolate tops.
This one is something of a hybrid, to my mind. It has peanut butter to give it some extra goodness.
Just make up the "sauce", stir into the cereal, and top with some melted chocolate.
No Bake Peanut Butter Bars (Also called Sweet Marie Bars)
1 cup light brown . . . → Read More: No Bake Peanut Butter Bars | Sweet Vintage Treat