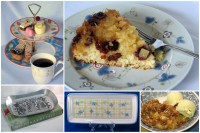 Once you've made your baked goods, it's time to eat them!
Serving breads, rolls, muffins and other baked goods to family and friends is satisfying and enjoyable. What should you know about serving them at the table (if you can resist long enough)?
Many dinnerware sets include serving pieces designed for bringing breads to the table. Bread and cracker trays are long and narrow. Some product lines include metal or earthenware pieces which are oblong, even those where the other pieces are fine china.
Serving bowls that go with your dinnerware (round or oblong) can also be used, as . . . → Read More: Earth Day Baking Part 7: Serving Baked Goods