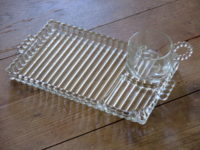 When my grandmother's estate was settled, I got her party dishes. That was what we called them: three boxes of glassware snack sets, in an unknown pattern by Orchard Crystal, a total of 12 sets.
The plain boxes, somewhat the worse for wear, did not attract anyone's eye, but I knew what they were.
It's not that us kids got to use these dishes, however.
My grandmother used her glass party dishes when she hosted card parties in the afternoon with her "club." This was her special group of church women who met at each others' houses once a . . . → Read More: Grandma's Party Dishes – Making Memories