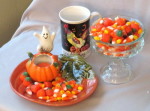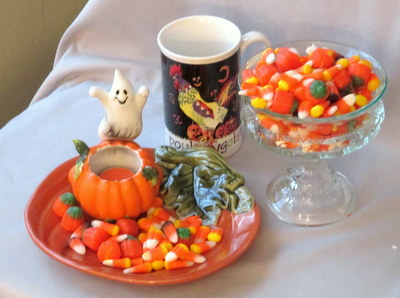 Whether you're serving candy corn or pizza, some colorful dishes can bring sparkle to your table for Halloween, and for parties on the day or the weekend after.
It's also an opportunity, once again, to play with mix and match table setting ideas.
Here I've brought in my very favorite Poultrygeist mug. He turns up around here in the strangest places, and not just on Halloween. Could there really be a ghost in the china?
The glass compote is vintage, in the King's Crown or Thumbprint pattern, made by Indiana, Wright, US Glass and others. This example is plain . . . → Read More: Time to Enjoy a Halloween Table Setting