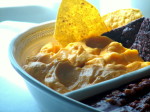 Cinco de Mayo is today, May 5, a time to party in Mexican style.
Casual dinnerware goes with the festive atmosphere of Cinco de Mayo parties, complementary to the lively colors and simple goodness of the salsa, tortillas, enchiladas, Margaritas and other foods you might be serving.
I selected a divided vegetable dish in the Hacienda Gold pattern by Franciscan for special use today. I put regular salsa in one side (actually the Black Bean and Roasted Corn Salsa by Pace), and cheese dip (Queso by Taco Bell) on the other.
Served with blue corn chips, and regular corn chips, . . . → Read More: Cinco de Mayo Dinnerware | Bright Summer Party Dishes