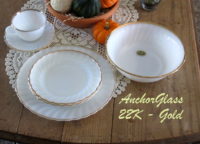 This white glass dinnerware with golden edges is my newest collection. I found several pieces within days of each other, in thrift shops in the area.
Was it a sign?
This Swirl pattern reminds me of days long ago, eating egg sandwiches around the kitchen table. I liked the pieces, and the memories.
This dinnerware is part of the Fire King line by Anchor Hocking. These dishes can go in the oven, but not the microwave, due to the metallic decoration. The edges are highlighted by 22 Karat gold.
This is classic 1950s dinnerware.
I was happy to find . . . → Read More: Fire King Swirl – Vintage Classic