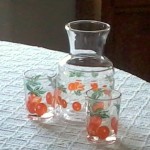 Federal Glass was the maker of eye-catching, now vintage glassware, still fairly easy to find in secondary marketplaces.
I especially notice the drinking glasses, tumblers and coffee mugs that I see in my travels. Thrift stores often have long rows of glass items, displayed on open shelves.
Look for colorful clear tumblers or vibrant glass coffee mugs, and just check the bottom for the mark.
Most of the glassware you will see is not marked. But Federal often is. The mark is a capital F inside a shield. It can be large or small, in the bottom center, or . . . → Read More: Federal Glass Vintage Mugs and Tumblers