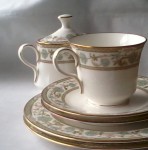 Why I won't have a Downton Abbey dinnerware set, but you might want to.
I like mixing my collection of vintage dinnerware and glassware, to create different table settings. That doesn't mean I don't use classic china dishes, just that my party style is eclectic.
One important element of an authentic Downton Abbey table is that all the china match. Each place setting would have all the right pieces to serve any menu, literally from soup bowls to nut dishes.
And the ware would be made from bone china, not just ordinary porcelain.
Any glassware, flatware and other pieces would . . . → Read More: Are Downton Abbey Dishes Your Style?