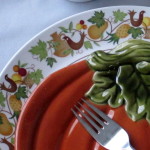 Vintage dinnerware mixes with new china just fine, when it comes to setting your table for the fall season.
Homecoming by Noritake is one of my favorite vintage patterns, and the new pumpkin plate by Better Homes & Gardens works so well with it.
I could bring in some colorful leaves, to add to a table setting in the fall, to go along with dinnerware sets that have the colors and motifs of the season.
Autumn color palettes and motifs are the ideal ingredients for a beautiful, seasonal table setting.
Bold and warm fall colors are popular, and the . . . → Read More: Warm Dinnerware for Cool Entertaining