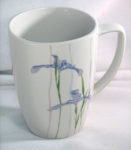 Corelle dinnerware has been popular since its early days in 1970.
At our house, Corelle is the workhorse dinnerware we use first every day, for breakfast, lunch and dinner. We use it to serve food just cooked, as well as warming leftovers in the microwave. We like the Country Morn pattern.
Corelle is practical, hands down.
Here's a list of reasons why we like Corelle, and others do, too:
Stylish – the Corelle line includes many patterns as well as plain white wares. It's easy to build a matching set, or mix and match. Durable – this dinnerware . . . → Read More: 7 Reasons Why Corelle Keeps Its Popularity