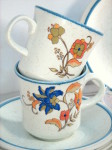 In one of the prior economic downturns, in the mid-1970s, bold colorful dinnerware was also in fashion.
A friend gave me some old home decorating magazines from the 1960s and 1970s, days I remember well.
It was fascinating going through them, looking at the designer rooms, tableware displays, and the advertising from those decades.
I couldn't help notice the similarities to some of the most modern dinnerware from the present, such as the Missoni for Target dinnerware that I wrote about recently.
Everything Old Is New Again
One vintage dinnerware pattern from the 1970s is Bokhara by Mikasa. This china . . . → Read More: Bold Colorful Dinnerware | Mikasa Bokhara China