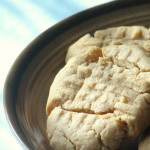 Holiday time means cookie time, and peanut butter cookies are a classic favorite.
You may remember them, with the crisscross tops, made by a fork.
They are featured here on a salad plate in the Buckskin pattern by Mikasa, from the Potters Art line. This china was made from the 1970s, into the 1980s.
The warm brown bands complement the colors in the cookies. Eat first with your eyes.
It's Peanut Butter Month – Have Some Cookies
This recipe would have been created to use the standard peanut butter available 40 years ago.
I made mine with a combination of . . . → Read More: Peanut Butter Cookies | Vintage Mikasa China