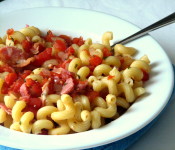 White china soup bowls are versatile to use when serving chili, casseroles and other foods, too.
Many cooks and chefs like white because they show off the food to good advantage. And as they say, we eat with our eyes.
In the September 2011 issue of Everyday Food, I saw a recipe for Pasta and Bacon with Smoky Tomato Sauce. I knew I was so making this.
I had most of the ingredients, and what really sold me — besides that it was an easy recipe — was that it includes cavatappi as the pasta. This shape is curly . . . → Read More: White China Soup Bowls | Pasta With Bacon