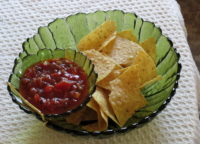 I love it when I find vintage glassware in the original box. This chip and dip set by Anchor Hocking was mine as soon as I saw it.
Its first use at our house: a treat to use for serving some salsa and chips. The larger bowl is especially generous in size, to hold a lot of chips at once.
The pattern is called Country Estate, and it's in avocado green.
Online sleuthing shows that this set was also made in honey gold, and there are some other pieces in the pattern out there, such as candle holders.
I'd . . . → Read More: Vintage Glass Chip and Dip Set