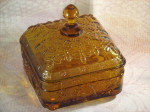 Time to bring out the Thanksgiving dishes, like vintage amber glassware.
This Tiara amber honey box is from the 1970s, when Harvest Gold was a popular fashion color, in glassware, cookware and even appliances.
In a modern table setting, the warm color complements more contemporary dinnerware patterns.
And we love the bee motif, too.
One or a few pieces can add to your centerpiece or buffet decoration, for Thanksgiving or other winter holidays.
Finding Tiara
These Tiara glass serving pieces are not terribly common, but if you shop year round for your vintage dinnerware and glassware, they are available in . . . → Read More: Thanksgiving is Coming – Tiara Honey Box