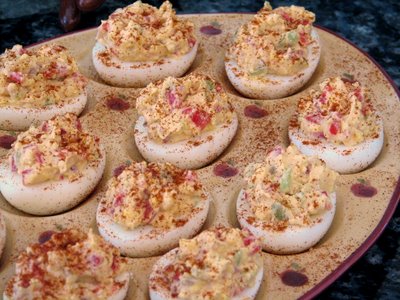 Easter colors of yellow and green, pink and blue are enough to get your table setting ideas flowing. Add in the motifs, such as baby chicks and eggs, bunnies and spring flowers, and you can get your Easter tabletop and entertaining plan off to a great start.
And then there's the food.
Since I met Chef Lynn Miller, author of Flavor Secrets: Back to the Basics, and a fellow dish lover, we've shared some "dish and dish" chats about food and dinnerware. We both enjoy dishes and food.
This is so much fun, and it has got me thinking more about adding the colors of the food to the colors of my tableware palette. (We talked about her beautiful collection of dinnerware previously.)
Let Easter 2010 be the year you crack the egg with some new ideas to add to the perennial favorites we suggested in our simple Easter table setting ideas last year. Such as:
Go bold: Use bright, saturated colors in ochre yellow, rich red, deep green and cobalt blue. These colors wake up the senses. Use white, ivory and linen colors to showcase these vivid colors in dinnerware, serving pieces, centerpieces and tableware. Table settings based on intense colors work indoors and outdoors, too, if the weather in your area lets you have Easter dinner on the patio or deck.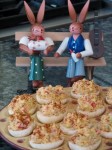 The food can also work into your bold color palette. For example, Chef Lynn's deviled eggs with diced red pepper and celery (then sprinkled with smoked Spanish paprika) add to the colors in this Hartstone Pottery egg plate.
Show contrast: Beautiful, vibrant color dishes also work as complements to their color wheel opposites, such as green with red, blue with orange, or yellow with violet. And you can take liberties with the exact shades of each color.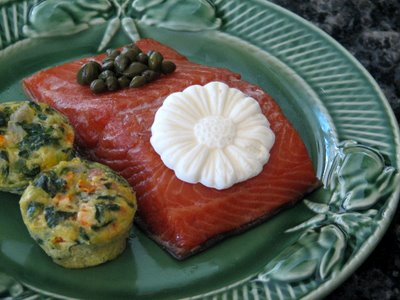 For example, this forest green Portuguese pottery plate looks great with deep red color of Chef Lynn's house smoked Stovetop Salmon and Quiche Bites. The cream cheese topping (frozen in a butter mold, then added at the last minute) adds another layer of contrast.
Eat with your eyes, then your fork!
Create harmony: The reds, greens, yellows and blues found in nature work well in dinnerware and in food. Harmonious colors and patterns bring a calming, unifying air to your table setting ideas.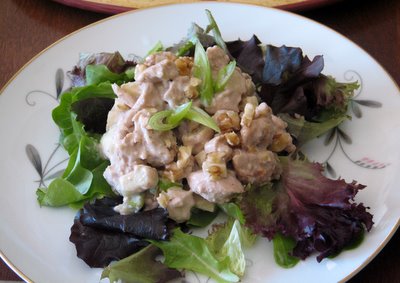 Vintage fine china with nature motifs, like the one decorating this Noritake luncheon plate (we christened the pattern Pea Vine), mixes in color and motif with the leafy bed of greens topped by Chef Lynn's luscious chicken salad. Pinks and greens, set off by white with gold rims. Classic design meets today's emphasis on green living
The world of mix and match vintage china and dinnerware - using new and new-to-you dishes - will help you make your holiday table even more inviting this Easter.
And the delicious recipes in Flavor Secrets will help you add some new taste treats to your cooking repertoire. Get more of Chef Lynn's tips here.
Key to the recipes in Flavor Secrets:
Stovetop Salmon, page 32
Appetizers page 37
Quiche Bites page 50
Stuffed Eggs page 53
Chicken Salad see Potato Salad variation page 68




by