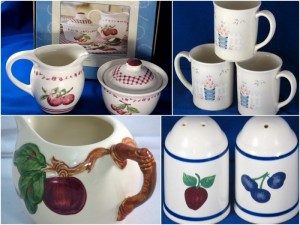 Vintage and new dinnerware sets show the long-term appeal of apple china patterns!
Some patterns go with red, as you'd expect. Others focus on green apples. And there are versions that have both red and green pieces to mix and match in your table setting.
One example, the Apple Pie pattern by Franciscan (see thumbnail photo below).
Apples on dishes make a perfect motif to use as the centerpiece of a fall harvest party or Sunday dinner.
Dishes with this design mix together with other fruit-pattern dinnerware sets for a pretty and colorful table setting any time of year.
Compare the dishes to real apples, and you'll find that there are lots of color nuances to exploit in creating your unique table setting with dishes in the many subtle colors of apples. A bit of yellow can work in to represent the golden apple varieties, if you wish.
Gallery of Apple China Patterns
Pfaltzgraff china creamer and sugar in the Delicious pattern. Apple on the creamer, cherries on the sugar. This pattern was made for about four years, and discontinued around 2010
Corning mugs in an apple pattern, blue basket and picket fence. No name so far, but it will turn up (and Corelle is dinnerware, but not china). The Corning Ware/Corelle line also features apple motifs in the Fruit Basket, Chutney and Farm Fresh patterns
Franciscan china in the Apple pattern, detail of the creamer. Embossed apples and leaves, and the twig form to the handle. Vintage Apple pattern pieces were made in California, during the time when Franciscan was owned by Gladding McBean
Princess House salt and pepper set in the Orchard Medley pattern. Stylized apple motif as well as other fruits, still popular even though it's been discontinued for more than 10 years
October is National Apple Month. No surprise. The crop is often at its best this time of year. There are so many tasty and good looking apple varieties to choose from, for fresh eating, cooking and baking.
What fun to add a large bowl of fresh apples, or another version of an apple centerpiece, to your table setting based on apple pattern dishes.
Apple china patterns make for a sweet table setting!




by