Indigo Moon has been on our radar screen ever since the first time we saw it. One, because it's blue. Two, because it's so cool.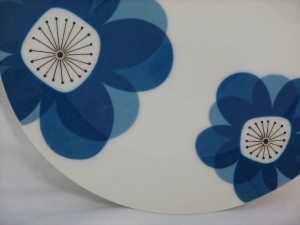 It's an occupational hazard of life on the dish trail: Sometimes you want to keep your finds.
As soon as I see blue, the cart turns in that direction. If I put on a bumper sticker for thrift store shopping, it would read "Caution: I Brake for Blue."
This plate is also an example of something that came from an unexpected place, like the Ben Seibel china designed for Iroquois that we found a few months ago. Small towns and rural areas can be surprising sources of dinnerware that reflects the hot trends of its times.
Indigo Moon was made in Japan in the 1960s. It's a beautiful white porcelain, like the better-quality dinnerware we've seen from this era. Then, the flowers just pop.
The black centers give this pattern that extra mod punch. Like icing on the cake.
Indigo Moon has so much to like.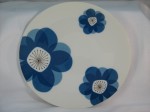 by